After a season marked by tragedy the Catastrophic Theatre looks ahead to happier days
The Houston theater company has rallied since the death of an actor, closing out its season with co-artistic director Tamarie Cooper's "Totally True Revue."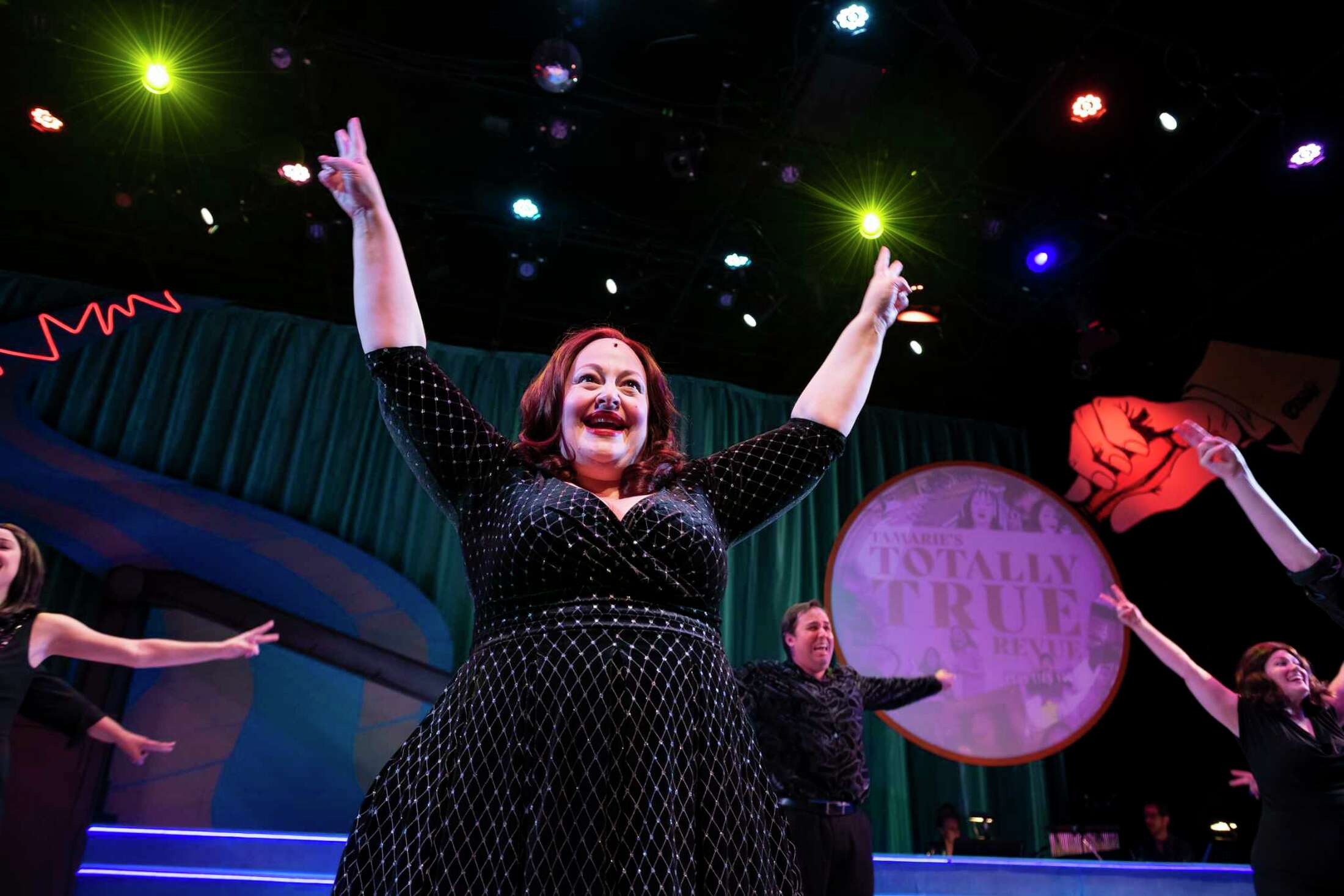 Tamarie Cooper began her season with the Catastrophic Theatre immersed in dirt. She'll end it traipsing around a surrealist set dreamily singing, dancing and greeting such disparate figures as Tinker Bell and Kenny Rogers.
Since its unassuming launch 30 years ago, the Catastrophic Theatre has reveled in making art between such provocative and broad parameters. Cooper — co-artistic director at Catastrophic — turned inward last September playing Winnie in Samuel Beckett's "Happy Days." The play plopped Cooper into a growing mound of earth. It is an inward play about an existence immobilized through interruption. The season-closing "Tamarie's Totally True Revue (Plus Lies Too)!" — which runs through Aug. 5 — is an explosion of energy, an outward projection.
A summer staple for Catastrophic's audience, Cooper's vaudevillian show this year has proved taxing.
"I feel it right now in my joints," she says. "I'm an idiot and I don't work out all year. But you think you can do splits and run up and down the stairs dancing. My body is like, 'Who are you? This is a betrayal.'"
The Catastrophic, too, has endured its share of pains this year. This was to have been a celebratory season for the company, marking 30 years since Cooper and co-artistic director Jason Nodler staged their first play, leading to the Catastrophic predecessor Infernal Bridegroom Productions. The company is no stranger to trials over three decades, having endured death, a financial crisis and a co-founder's near-fatal case of Lyme disease.
But for a company that exudes a familial camaraderie, this year has been a difficult one.
Days before Catastrophic was to have opened the Sarah Kane play "Cleansed," the lead actor, Zachariah Mustafa died. The play was canceled. Days later, Ricky Welch, a Houston theater veteran who appeared in Catastrophic's "America Falls," died.
The troupe held a memorial service for Mustafa in early April at its home at Midtown Arts & Theater Center Houston. It then set about looking for happier days.
Candice D'Meza's world premiere "A Maroon's Guide to Time and Space" enjoyed a successful run last month. And Cooper's show feels like a further return to normalcy during this difficult year.
In his novel "The Unnamable," Samuel Beckett wrote, "You must go on. I can't go on. I'll go on," which seems fitting.
He also jotted down in one of his notebooks: "Something begins, something else begins."
Work it out onstage
Last year, Cooper staged her "Sticky Sweet Summer Show!" after a pandemic break. When one Cooper show winds down, she jots down a theme for the next year's event, in this case, a theme of truth and lies. She pulls from her youth: "People roll their eyes, but I can't escape the '80s," she says.
Another song emerged from an experience in Florida last year.
Cooper spends the final third of the year working with co-writer Patrick Reynolds developing rough ideas, usually starting to formalize a script at the top of the new year. She draws from multiple Houston musicians to put words to song. There's always room for modification. In 2004, Cooper was working on a bit about dodgeball. The early summer release of the film "Dodgeball: A True Underdog Story" forced changes.
"Sometimes we jump off of our theme, other times we make people wonder how something will connect to the theme," she said. "How does our theme this year connect to Kenny Rogers?
"You'll find out."
The shows emerge from her "Tamalalia" performances years ago. Back when the Catastrophic was Infernal Bridegroom, Cooper enjoyed a jubilant reception for the first of these performances. Nodler encouraged her to bring the show back.
"But I told him, 'I want to do it on a bus,'" she says. "So we did it on a bus. I'm proud that it has become this little institution. It's absolutely, uniquely Houston."
It's also very Catastrophic. Cooper points out that the company's darkest work is always threaded with humor. And while her summer shows carry a celebratory feel, they possess undercurrents of anxiety.
"Instead of going to therapy, I just work it out onstage," she says. "These embarrassing, humiliating, heartbreaking moments in life, I'm trying to give people a chance to access them. Let's acknowledge this together."
Beginnings and 'Endgame'
A 30-year run prompts reflection. The Catastrophic Theatre's origin story is suitably shambolic. Cooper worked as a bartender at Catal Hüyük, a punk club where Nodler drank. He'd written a play, "In the Under Thunderloo," as a student thesis. A group decided to stage it at the bar with a cast of musicians rather than actors. Nodler's friend Lisa McEwen directed the piece and Cooper choreographed it.
Response was such that the principals decided to keep doing what they were doing. A year later, in 1994, they staged "In the Jungle of Cities" by Bertolt Brecht, which contained the phrase "infernal bridegroom." The theater company had a name. That same year it presented Eugene Ionesco's "Rhinoceros." Plays by Jean Genet, Samuel Beckett, Peter Weiss and Maria Irene Fornes followed in 1995.
Beckett's "Endgame" was the first show actor Jim Parsons did with IBP, a production he says carries "such a special place in my heart." Parsons would go on to stardom in TV and film, but credits the company with putting him on that path.
"It really changed my trajectory as an actor and opened a world for me that I had craved but couldn't put my finger on. I didn't know how to get to that place I was craving. I didn't know what the words were. I didn't know who the playwrights were. Really, because of them, I got introduced to things I connected to and had not really dealt with before, like Beckett, Ionesco. That was a crucial time for me."
For a small theater doing avant garde and experimental work, the company found a lot of attention. Singer, songwriter and guitarist Carolyn Wonderland had a lead role in "Thunderloo." "It was actual guerrilla theater," she says. "They made materials appear out of thin air, or it seemed that way to me. It was amazing."
IBP and Catastrophic would do works based on music by the Kinks' Ray Davies, the Pixies' Black Francis and the beloved cult singer-songwriter Daniel Johnston. Rapper and flutist Lizzo once had a tiny role in the choir for a production. Playwright Suzan-Lori Parks had a world premiere at IBP two years before becoming the first Black woman awarded the Pulitzer Prize for drama.
The company enjoyed growth and suffered growing pains. It was nomadic for the first several years of its existence, before settling into the Axiom, a music club. Its cozy confines at MATCH in Midtown don't offer any indication that IBP was dissolved amid a financial crisis in 2007, to reemerge as Catastrophic the following year.
Plans for next season are forthcoming. And Cooper says they're looking to expand what they do with education and acting classes.
Through it all — comings, goings, lives, deaths — Nodler and Cooper share a particular creative partnership. Their personalities present as opposites: Nodler projects a dark inward quality; Cooper a radiant theatricality. But each feels and understands the other's highs and lows. They're complementary pieces, particularly with regard to creative process.
"Whether they're doing something heavy or something punk rock or fun, you have to see it, no matter what," Wonderland says. "They pull in interesting people. They're like magnets."
So while they've made the best of a difficult season, it clearly has left an impression, much as when their friend and colleague actor Cary Winscott died of cancer in 2008.
Five years ago, Nodler suffered from Lyme disease that nearly killed him. Cooper's eyes water every time she talks about it. So she dwells on other memories.
"Doing 'Happy Days,' I'd get mad at him a few times, but I know it's his process: 'Let's do it this way!' And then the next day, 'Forget everything we did yesterday!' I understand that's building layers, and even if you strip them away, you're left with the essence of every experiment. I know that creates a richer product.
"But I also remember thinking, 'If he changes this again, I'm going to throw a shoe at him.'"
No shoes were thrown. And the two continue to lean on each other as one season ends and another begins.
"
We've supported each other through the hard times," Cooper says, "and through the good times."