Travel time with Harriet Tubman at Houston's most adventurous theater
In A Maroon's Guide to Time and Space, the latest avant-garde offering from Houston's ever-adventurous Catastrophic Theatre, Harriet Tubman is whisked not just from the bondage of slavery but into other galaxies and chronologies. She watches a highlight reel of her life that details her courage and hardships before ending on a wry high note: At least she appeared on a stamp. She converses with members of a genderless fish species that communicates in clicks and grunts. She hosts an intergalactic talk show, called, simply enough, Harriet.
We are in the realm of Afrofuturism, a genre that encompasses everything from the caustic early-20th-century fiction of George Schuyler to the jazz freakouts of Sun Ra (who famously exclaimed that Space is the Place) to a little movie called Black Panther. The central principle, which also guides Candice D'Meza's Guide, is that freedom doesn't stop at the borders of time, space, or technology. "Resist their timeline," Harriet (Crystal Rae) is told by the intergalactic overlords, urging her to push back against the powers that be. Or, to quote an album title from Afrofuturism standard bearers Funkadelic, Free Your Mind…and Your Ass Will Follow.
"This is not a play," the audience is told in what becomes a sort of mantra for the 90-minute show, though it actually has more accessible entry points than much Catastrophic fare. Front-row audience members in the black box theater at MATCH can expect to be invited onstage for a dance party (see Funkadelic reference above). A circular screen at the rear of the stage transmits messages and even facilitates a storyline, involving two inmates (Byron Jacquet and Anthony August) who receive an iPhone call from the set of Tubman's talk show. (The sequence is an offshoot from the 2021 Catastrophic film project 30 Ways to Get Free, also written by D'Meza.) The overall tone blends whimsy and celebration at the prospect of freedom with a more sobering sense of that which makes liberation necessary. Rae's Harriet gets off the best line, as she laments a time of "white people driving up the property value. Turns out I was the property."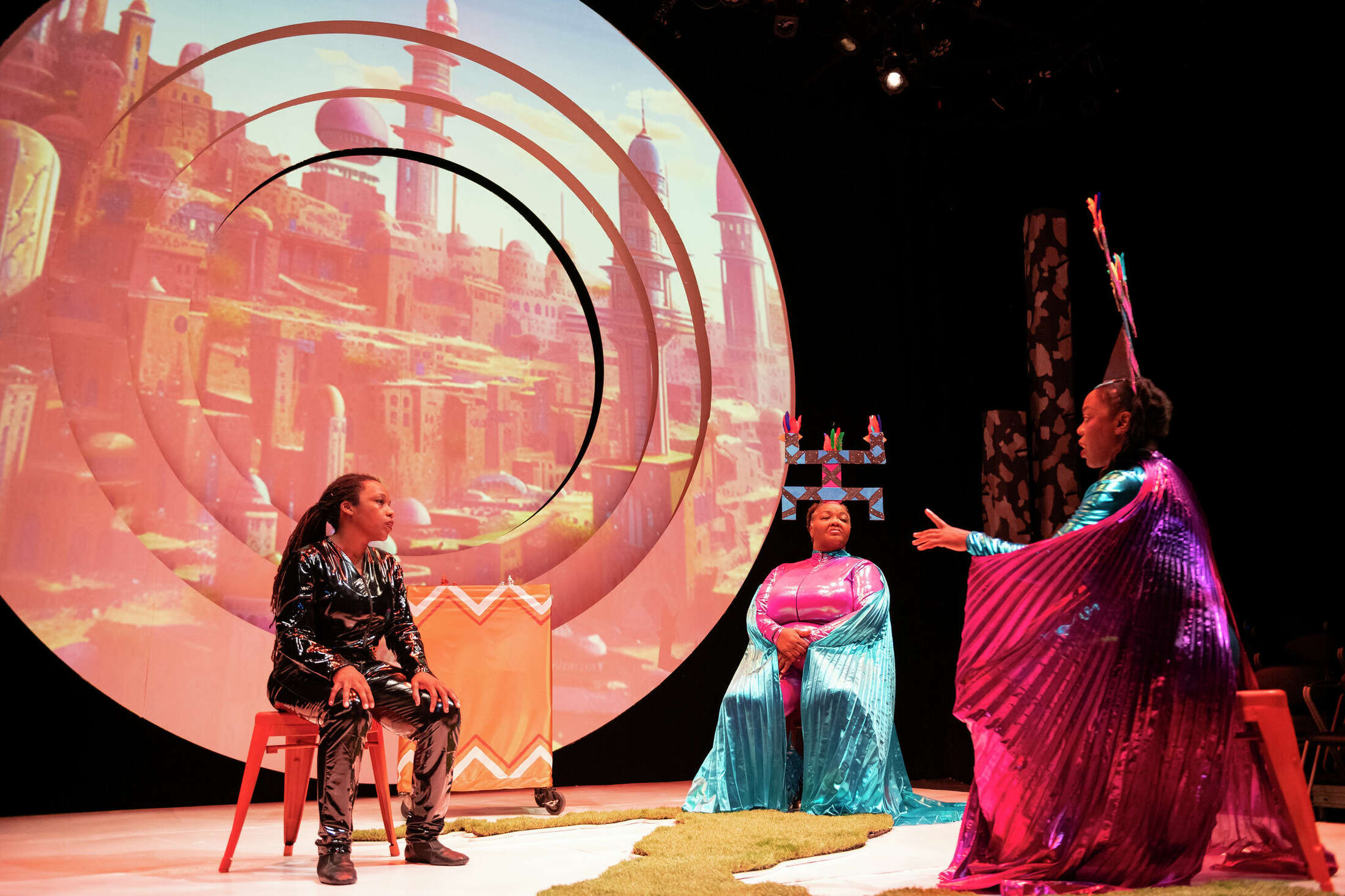 Directed by D'Meza and Mikala Gibson, Guide embraces Afrofuturism on multiple levels of production, including Juan Saracay's costumes, which blend African-themed patterns with bright vinyl sheen, and Sean Ramos' sound design, which reminds how electronic music, including but not exclusive to hip-hop (see Janelle Monáe and OutKast, among others), has gone Black to the future. Aside from Rae, who instills Harriet with a sense of disbelief that transforms into confidence and then back again, the cast mainstays are Brittny Bush, playing a sort of tour guide and then producer of the talk show (her job includes telling the audience when to applaud); and Rennette E. Brown, who, as Harriet's mother, executes an affecting piece of silent acting involving the wonderment of encountering a comfortable bed.
A Maroon's Guide to Time and Space has timelessness built into its very premise, but it also manages to speak to the here and now without making a big deal of it. If liberation is eternal, the work suggests, then so is bondage, in its many forms (including the incarceration of the two guys who get Harriet's phone call). At one point, Harriet listens to a list of contemporary maladies, many involving racism, and wonders, tongue in cheek, if perhaps she had it easy. It's a telling moment at a time when teaching the history of slavery, and pointing out its perpetual relevance (à la The 1619 Project), is increasingly under attack. If, as Guide suggests, time is a loop—or, for True Detective fans, a flat circle—we live not just in the present and future, but also the past. And, as William Faulkner wrote in Requiem for a Nun, the past is never dead, nor even past. As Guide instructs its audience at the outset, buckle up.
Catastrophic Theatre presents A Maroon's Guide to Time and Space, running through June 17 at MATCH, 3400 Main Street. For tickets and more information, visit the company's website.