Review: TAMARIE'S TOTALLY TRUE REVUE (PLUS LIES TOO!) at The Catastrophic Theatre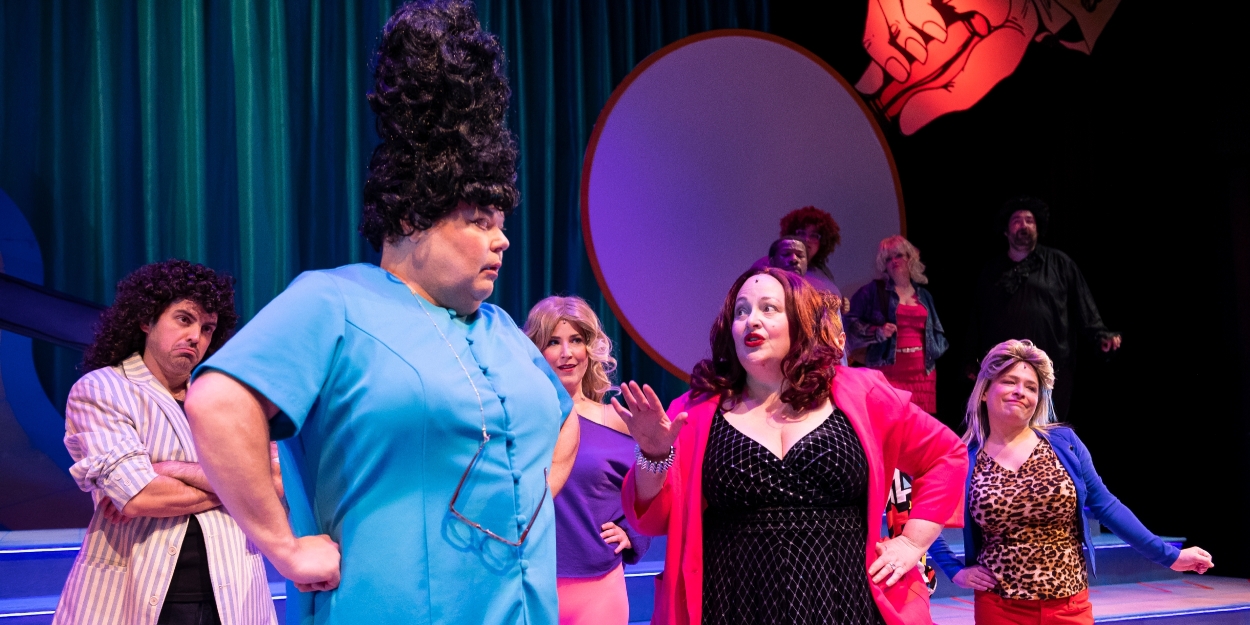 Tamarie Cooper is a local theater legend, icon, chanteuse, and diva. And no Houston summer is complete without her annual revue! Every year this is the Catastrophic Theatre production I anxiously wait for, and each time my smile gets bigger and bigger. What Tamarie does (with help from writing partner Patrick Reynolds) is combine her own life experiences with whatever is happening politically, and she turns it into a silly ice cream sundae of musical numbers and comedy bits. The thing is she is never alone, and is surrounded by her best friends who happen to be the crème de la crème of local actors and singers along with Walt Zipprian. This year's TAMARIE'S TOTALLY TRUE REVUE (plus lies too!) is a cool blast of nitrous oxide in the dead heat of Houston's cruelest summer. She and her band of merry conspirators will drag you out of the dog day doldrums and into a hysterical fit of laughter and giddy sing-a-longs. It's funny, loud, and completely stupid in all of the best ways.
It opens logically with a short video of former Secretary of Defense Donald Rumsfeld talking about things we know we know, things we know we don't know, and things we don't know that we don't know. You see this year is all about truth and honesty, and examining what that means to Tamarie and her squad. Onstage there is a lie detector, and throughout the evening truths are revealed as are lies. And somehow highlights include dancing poop, Aristotle, an 80s PSA star, Tinkerbell, George Washington, Thomas Jefferson, the world's oldest cactus, and an army of drag queens to name but a few.
Tamarie Cooper is the star of the show, and her BFF Kyle Sturdivant is standing right by her side. These two always have this strange incredible onstage chemistry, and everything they do works wondrously no matter what happens. Tamarie sings, dances, and reflects on her innermost thoughts. Kyle mugs, busts her chops, and shows off his drag skills to be the yin to her yang. Watching these shows over the years is like witnessing an unlikely love story of two artists destined to share a stage. This TOTALLY TRUE REVUE captures that friendship and partners in "art crime" perfectly. Tamarie probably shines the most singing about an "ocean incident", and Kyle's interpretation of a school secretary is comedic brilliance. His tribute to a country superstar is also spot on.
The ensemble around these two is also superb. I could rattle on and on about each one, but trust me… there is no weakest link, and every cast member could hold their own and carry the show (even the crew this year!). Standouts include (as always) the unstoppable theatrical genius that is named John Dunn. He should win "all the awards" for his monologue as a put upon icon of the 80s, as his portrayal of this character is mind-blowing. Make him an EGOT already. Meryl Streep would be jealous of Dunn's ability to inhabit his character. Bryan Kaplún steals every scene he is in, and can quite frankly say he is the s–t with no irony. He remains my theatrical "man crush" of all time – rakishly handsome as a flailing dancing turd! Scott Lupton is so hysterically spot-on as Tinkerbell that I want a spin-off show of just him doing that for two hours. Abraham Zapata is wonderful as a middle aged Pinocchio. Julia Oppenheim reveals a deep dark secret of hers, and it is truly a bombshell in the auditorium delivered with comic precision. And this year Walt Zipprian continues his vice grip on the cultural zeitgeist with his bravura performance as "the world's oldest cactus." You can't go anywhere in the world and see this people!
The tech is as gloriously over the top as the songs and the acting. The whimsical set designed by Ryan McGettigan is a neon infected treat. Puppets by Afsaneh Aayani are also funny as all heck. The entire show from top to bottom is easy to love, and Tamarie even gets a costuming credit. Can this woman do everything? Is she a one woman sweatshop of theatrical arts?
To discuss anything further that happens would ruin the surprises, and that is half the joy of these types of things. Just go, this is a funny and sweet show that is perfect for summer. What could be better right now than a dose of truth mixed with the glee of a couple of lies? It's a well done production, and it's all performed in one single ninety-minute act. I was amazed at how much is packed in here, and the night I went they even inserted some "theater people" gossip about Deborah Hope and Joel Sandel. You can hear their take at https://www.youtube.com/watch?v=YssTNG-GbLQ Tamarie is a must for the summer, and TAMARIE'S TOTALLY TRUE REVUE (plus lies too!) is just as "funtastical" as all of her other shows. It's a solid truth that this is the one to see if you are out and about this season. If you miss it, you literally are not seeing dancing poop circle around Houston's musical comedy mistress. Your summer will officially be s—-y!
TAMARIE'S TOTALLY TRUE REVUE (plus lies too!) runs at the MATCH complex through Saturday August 5th. The run includes several "Free Beer Fridays!". Tickets are "pay what you can" as is the tradition of Catastrophic Theatre. Tickets can be acquired through the link provided or through the box office line of the MATCH at (713) 521-4533.